When i first came across this event "Marketing Hunt", it was just another invitation, to just another event. But, it was the interaction with one of the organizers, Anand, that attracted me to this Marketing Conference. I feel glad that they accepted me as a "Social Media Advisor" for this event.
The domain of Marketing is very exciting and perhaps one of the most demanding in terms of creativity & innovation as the competition is immense. It is very important for Marketing professional as well as StartUps to stay updated with the current and future trends, which would help them have an edge over the others. Here it is very important to take note, that networking, meeting new people, listening to their thoughts & ideas play a vital role in having new & creative marketing ideas. Creating multiple strategies, for multiple products / projects, requires thinking out of multiple boxes, not just a box.
With facilitating this intention in mind, the Surat StartUps Community coined "Marketing Hunt͟" an event which would bring together different stake holders, students, experienced professionals, decorated academicians, startups etc belonging to different backgrounds, making it one of the biggest Marketing Conferences in Gujarat. "Talents will be showcased from all over the country through the strongest medium of Technology. We believe that given an opportunity, innovative ideas can be obtained from the young brains of the country." said the Team Marketing Hunt, when i met them.
The event features Marketing Workshops, a Marketing Competition, which have been going on since past one month and it will conclude with a grand Marketing Conference on 23rd October 2016 at Surat. Students, Professional, and Entrepreneurs from across the nation are expected to attend the Conference Day at Surat, which would have competitions, big Cash Prizes, guest talks, certification programs, networking opportunities with marketing geniuses, recruiting opportunities etc.
In the Online Rounds of the Competition:
90+ teams who are students, professionals, and entrepreneurs from across the nation registered and are competing against each other for the grand cash prize.
Speakers at the Marketing Hunt Conference !
The biggest advantage to the attendees is, they will get a chance to listen prolific speakers like:
Porf. Parag Shah (Chief Mentor – MIDAS | Former Chairman & Founding Director – FLAME)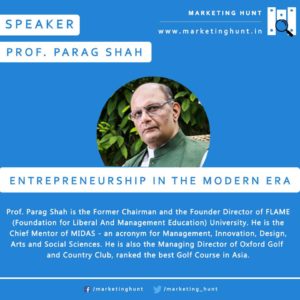 Dr. Rohit Singh (Associate Dean – Auro University)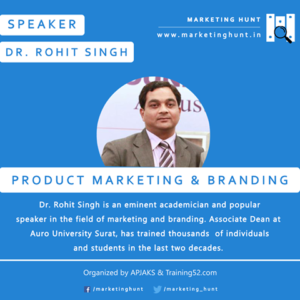 Mr. Ameet Singh (C0-Founder -DoBoz, Coloumist – The Indian Economist, Ex Asst. Vice President – Yes Bank)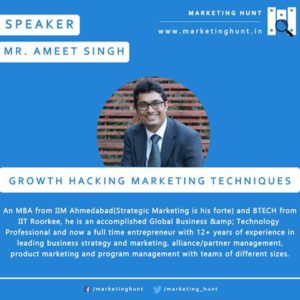 This is one conference that you should definitely not miss.
Grab your passes to the conference from here.
Renowned Speakers will grace the occasion by delivering expert sessions.
Winners of the Marketing Competition will be announced.
Winning Teams will share their marketing strategies and secret of success.
Team profiles will be provided to all Recruiting Partners.
Recruiting Partners will head hunting.
Entry to the Marketing Hunt conference on 23rd October in Surat
Participant Profile Kit to select the right candidate for your requirements
Entry to exclusive networking event featuring other recruitment partners and all participants
Your logo on our website and other promotional materials of the event
Conference kit
Especially for the readers of this blog, exclusive 10% discount would be offered by the Team Marketing Hunt. Use the Coupon Code: YC2310
I wish the whole Team Marketing Hunt – a Grand Success and hope to see you all there.
Cheers,
YC