Competition is soaring in the professional world, as the Information Age starts to have increased impact in the Careers of almost all sectors. Social Networking has become really important for all the three aspects of one's life, Social, Personal & Professional.
For professional networking one of the best medium is LinkedIn. Having a strong LinkedIn profile is an asset for freshers, young professionals as well as seasoned professionals. Implementing following 10 points would yield a strong LinkedIn Profile.
Point 1: Keep the Aim very clear & professional
LinkedIn is a professional networking place, you need to keep you aim with the same perspective. Connect with the professional of your field as well as it's related fields. Students, All range of professionals, entrepreneurs, business owners etc are active online, hence landing on the right information would be a good learning curve as well as a wonderful platform to showcase yourself. So, the aim to should be getting connected with professionals and grasping from & contributing to the global professional world.
Point 2:  Keep your profile up-to date
A LinkedIn profile has total range of fields, which a professional needs to showcase in their profile. Right from educational qualifications, to skills & attributes to volunteering experience, patents filed, papers published, awards & recognition received. Fill in all the details, very carefully. Avoid spelling / grammatical errors and false information. Be sure that you include all the key words related to your career in the summary as well as in the headline. The Display Photo & Cover photo should be professional with proper dimensions. DP should be from head to the torso, with professional attire & face clearly identifiable.
Point 3: Collect & Give recommendations, that are true.
Another great feature that Linkedin offers is "LinkedIn Recommendations". You should ask relevant people to write recommendations to you as well as you should write recommendation for the relevant people, whom you know. Your colleagues, your boss, your juniors, your teachers / professors / mentors / guides etc can recommend you and you can do the same for them. Be realistic & true, when writing recommendations for them and request them to do the same when they are writing for you. On a public platform any kind of false recommendations, can cause loose of credibility to both parties.
Point 4: Endorse & Be Endorsed for Skills & Attributes
Skills & attributes section is a very important part of your LinkedIn profile. It is very important that you list all your skills & attributes in the decreasing order of importance, which helps LinkedIn to know what you are best at. Ask to be endorsed for your skills & attributes as well as endorse others for the best they have in them.
Point 5: Use you LinkedIn profile as your CV
Find the right format for your CV might be a challenge, but LinkedIn does the job for us. As show in the below screen shot, you can save your LinkedIn profile as a PDF, which is a standard format any company across the globe would accept. All the fields that you have filled out on your LinkedIn profiles including the skills, attributes, volunteering experience, recommendation and the other information, would be included in the profile.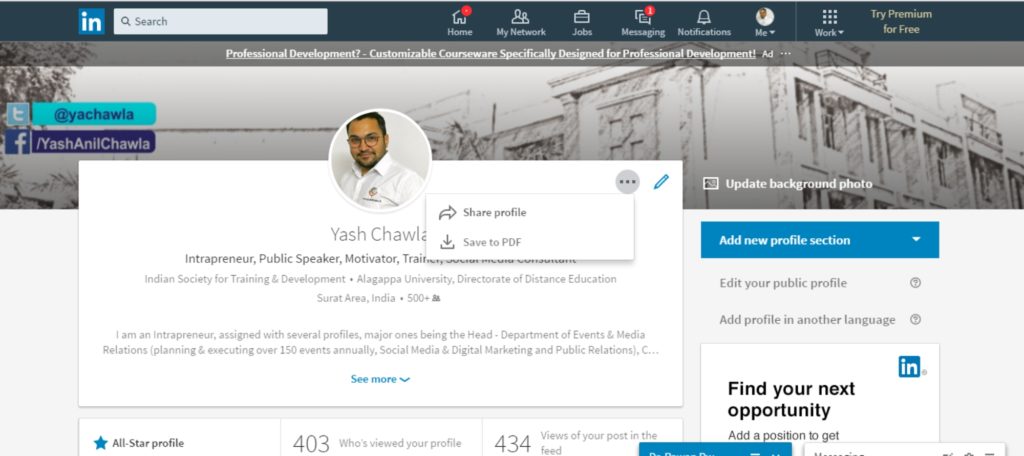 Point 6: Join / Create relevant groups & be active on them
LinkedIn Group are a great means to get connected with people whom you don't know, but want to get connected to. It is not easy grow you network on LinkedIn, as the privacy policies are stricter than the other Social Networking Sites. You are able to send connection request to people whom you know, in some cases you need to have the specific email id of the person you want to add to you connections, so as to send them a request. Group helps you reach out to new professionals and give you an opportunity to showcase yourself. Moreover, you also learn from the knowledge of other professionals. You can own / manage maximum groups at a time, where are you can be a member of maximum 100 groups. To know about limits of LinkedIn Group, Visit Here
Point 7: Be active & keep sharing
LinkedIn primarily allows to you share two things on you profile 1) A Post & 2) An Article.  A post is text, image, link etc, where as An Article is more like a blog post along with a cover photo & headline. Before sharing any content keep in mind that; Aim is not altered, Content is simple to understand, photos / designed graphics give a better impact, think about the impressing the content would have on your connections and on the people who visit your profile for the first time. If you are not acquainted with any designing softwares, don't be sad, you can use Canva for graphics and Youtube Video Editor  for making videos. Please avoid sharing personal content on LinkedIn.
Point 8: Be prompt & positive in replying to comments / messages
A professional always responds well when spoken to. A comment or a message, indicates that someone is talking to you and it is very important that you respond to them in apt time and manner. Provoking messages / comments can be avoided, questions / queries can be addressed, appreciation or wishes should be replied with gratitude, Birthday / Promotion / Work Anniversary notification from LinkedIn should be dealt with Best Wishes / Regards. So on and so forth. If you are dealing with negative comments, best solution would be to humble with it in replying or if you choose not to reply, then just delete the comment. Retaliating, wouldn't be the right response on a public platform.
Point 9: Provide proper means to let people contact you
After going through you profile, people (especially who don't know you personally / are not connected with you on LinkedIn) should have enough contact information to be able to contact you, with means apart from LinkedIn (Message, InMail etc). A email id, on which you can respond in a good / short time frame should be enlisted and publicly visible to all LinkedIn member. You never know from where the opportunity is going to knock you door !
Point 10: Follow Companies & Keep Track of your Profile / Post Views
Good Companies shared current content related to the work that they are doing, job vacancies they have and other details related to their field of work. This can be really helpful, in case where you wish to work for a particular company. On LinkedIn profile & Post views feature is somewhat unique. Your profile is ranked on the basis of number of profile views it gets in a 30 day period. For a non-paid LinkedIn member, name of the first few people who have visited the profile is visible, where as for a premium user all the names are visible. Hence it is very important to visit the profile views section everyday. This will give you a good idea of who is viewing you, from which industry, from which sector etc, Inevitably helping you understand your impact on the professional community.
For any queries feel free to write to me on contact@yashchawla.in
You can visit my LinkedIn profile by Clicking Here
Cheers,
YC